Clare of The Super Mommy Club is back with another blogging tip this month. Don't forget to check out her previous post, 4 Images You Need to Make Your Blog Post Rock.
Did you know that magazines spend hundreds of thousands of dollars each year working out what content to feature in each issue? They call it an Editorial Calendar. And did you know there's a way for you to tap into that research for free and use it to take your blog to the next level?
I'm so excited to be back here as part of Barb's Blogging Tips series, and I want to share with you how I created an editorial calendar for my blog which has made blogging less stressful, and perhaps more importantly helped me increase my traffic and page views.
1. Be consistent with your post schedule
If you want to grow your blog then I think the most important thing you need to do is to have a consistent posting schedule.
And by that I don't mean that you need to publish a blog post every single day.
Sure, if you're a deals blogger then daily posts are a necessity, in fact you probably need to post multiple times a day. But if you blog about parenting, or gardening, or home decor then you can choose what posting schedule is right for you and your audience.
Three times a week, once a week, once every other week. It doesn't matter as long as you stick to that posting schedule each and every week.
Why is a consistent posting schedule so important?
Firstly because after a while people will settle into that routine, and they'll expect to see new posts from you.
Secondly because it shows you are committed to your blog.
Thirdly because Google likes to see fresh content on your blog at regular intervals.
I publish new blog posts over at the Super Mommy Club three twice a week (Sundays, Wednesdays and Thursdays) and my traffic is growing consistently week by week.
2. Be consistent with your topics
Just as your readers will come to expect you to post at certain intervals or on certain days, they will also expect you to write about certain topics.
I'm a Mom Blogger so my main topic areas are parenting, kid friendly recipes, activities for toddlers and ideas for family fun. If I suddenly started writing posts about cats or weight loss, I might start to lose readers.
If you're just starting out with your blog then it's a good time to sit down with a pencil and paper and decide on your main topics. Five is a good number, any more than that and your blog posts will be too eclectic, any less and you might struggle to come up with enough things to write about.
3. Create an editorial calendar
Do you like to wait until inspiration strikes before you sit down and blog?
I used to do that, and it was really hard to stick to my posting schedule because I would often just sit and stare at a blank screen, or I'd try and come up with an idea by surfing the internet and suddenly realise whole hours had passed and i'd achieved nothing.
That's why an Editorial Calendar is so important to you as a blogger. You can sit down and plan out ideas for one month, preferably three, or even better six or twelve months of blog posts all in one go.
I don't mean you have to write the actual posts, just brainstorm the topic ideas.
This is how magazines are run. Towards the end of the year the editorial team plans what content it wants to publish for the following year. It then publishes that calendar to it's advertisers so they can see when they would like to place adverts.
That editorial team gets paid a lot of money to do that job, and it's all based on research about what topics trend at particular times of the year.
Let's say we write a gardening blog, we could write about planting seeds in February, growing peppers in April, planting alliums in June and Kale in September.
How do I know those topics are trending in those months?
I'll let you into a secret, most editorial calendars for magazines are published online, which means you can use their expensive research to plan your own editorial calendar! I just looked up the calendar for Better Homes and Gardens Magazine and that's what they were planning for their 2014 calendar.
To find the calendars for your topics you just need to go to your local store, or magazines.com and find the titles that are relevant. And then you can search for them in Google like this: Better Homes and Gardens Magazine Editorial Calendar. You are usually looking for a search result with [PDF] at the start, but you just have to click on a few until you find it. Here's the link to the Meredith calendar which includes BHG, Parents magazine and Rachel Ray.
You can also use this website to browse the magazine titles. Sometimes the editorial calendars are linked up on this site, but it's usually the media kit. They're also worth a read because they set out the demographics of the magazines readers, how old they are, male or female, whether they have kids etc. This can help you shape your own content for your readers.
4. Build up a batch of scheduled posts
An editorial calendar should make sitting down and writing new posts so much easier, because you already know the topics you need to write about. So now you can spend less time procrastinating and more time writing.
The great thing about this is it allows you to get ahead of schedule.
Once your post is written, you don't want to just hit publish, you want to schedule it to be published on a date in the future (you can keep track of what you've got coming up by using a plugin like CoSchedule).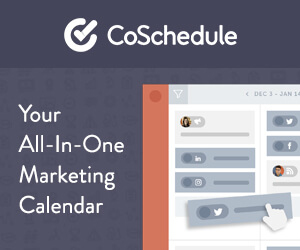 Let's go back to our gardening blog for a moment. It's August now and we know that in September we want to blog about planting Kale. Don't wait for September, sit down and write that post now, and then when it's done you can schedule it for September.
This might be a very big change from how you blog today, but trust me, it is so much less stressful to know that you have next month's posts all scheduled out.
This takes the pressure off you.
Kids get sick, your hubby wins a cruise that you have to take next week, you just don't feel like blogging today…
These things happen, and you can take a little time off knowing that next month is covered. Don't take too much time off though because you need to start writing the posts to schedule out for the month after!
Over to you
I really hope you've learned something today about editorial calendars, and that you'll take action and develop one for your own blog. If you have any questions just pop them in the comments box below.
If you've found it useful, then Barb and I would really appreciate it if you'd hit one of those colourful buttons down there and pin it for later or share it with your friends on Facebook.