Hello! I was thrilled when Barb asked me to write a guest post for her wonderful blog, A Life In Balance, and I'm honored to be sharing some gardening ideas today with you, her fabulous readers!

I'm Athena, a Master Gardener in Washington State and proprietor of Minerva's Garden. When I'm not out enjoying my garden, I'm a freelance SEO writer and actor/cabaret singer who loves the music of Tin Pan Alley, classic Broadway musicals and Hollywood films. At Minerva's Garden you can find me writing about clematis and other flowers, sharing tips for vegetable gardening, coming up with all sorts of decorative garden embellishments using recycled items, and creating humorous and helpful gardening videos with the assistance of my sweet musical hubby, all with a frugal touch.
Plants with Colorful or Unusual Foliage
The topic that Barb requested is one for which many gardeners—including myself—are always looking for ideas—plants with colorful or unusual foliage. As you know, the foliage on a plant typically stays vibrant for much longer than the flowers. It's a great idea to add some of these colorful foliage plants to the garden to extend the excitement throughout the growing season. These types of plants have many applications in the garden—they can be added to mixed borders to both lengthen the color season as well as provide some low-maintenance plant options, or they can be used in containers and grouped for dramatic presentations.
Here are some of my favorite picks for foliage plants, all of which I grow in my garden. My urban garden is in the Pacific Northwest, garden zone 8, with mostly mild and very rainy winters, and summers that tend to be on the cool and dry side, although it can heat up for short periods. In this post, I will include a variety of plants appropriate for a range of climates and growing conditions, so that you can find suitable ones for your garden's particular microclimates.
My top picks for plants with colorful foliage
I. Evergreen dwarf conifers
Over time I have been adding a variety of evergreen dwarf conifers to our garden. They add structure to the garden borders all year long, as well as color.
A. Curly Tops (Chamaecyparis pisifera 'Curly Tops', zone 4-8, takes average water and good drainage. Size: 3-5 feet tall and wide at maturity)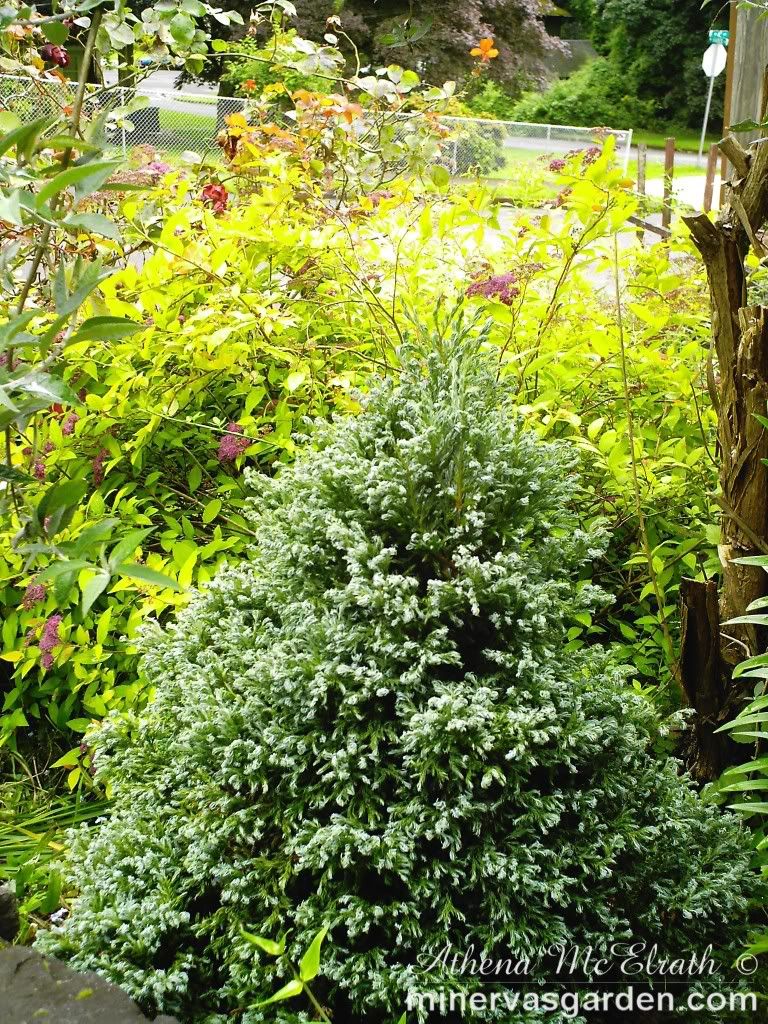 This is an unusual-looking blue chamaecyparis, featuring, as the name implies, a curling needle pattern that shows off the blue top and white bottom of the needles. I grow it in full sun, and it keeps its color. Try this with the deciduous shrub Spirea 'Goldflame,' behind Curly in this photo and sporting deep rose-colored flowers in the early summer, or an evergreen shrub with bright yellow leaves, such as Choiysa ternata 'Sundance.'
B. Rheingold (Thuja occidentalis 'Rheingold', zone 3-8, full sun to part shade, average water and good drainage. Size: 4-5 feet tall and wide in time–they grow slowly)
This evergreen Thuja is a yellow color in its new growth, and in the winter it turns a more bronze shade of gold. It is wonderful paired with a long-blooming blue catmint (Nepeta–many varieties), or some silvery Lamb's Ears (Stachys byzantina. The Lamb's Ears does spread rapidly, so may not be a great pick for a more formal garden design unless you are vigilant with it).
II. Shrubs
A. Evergreen
a. Mexican Mock Orange (Choiysa ternata 'Sundance', zone 7-10, full sun to part shade, water when top three inches of soil is dry. Size: 5-6 feet tall and wide at maturity, but slow growing)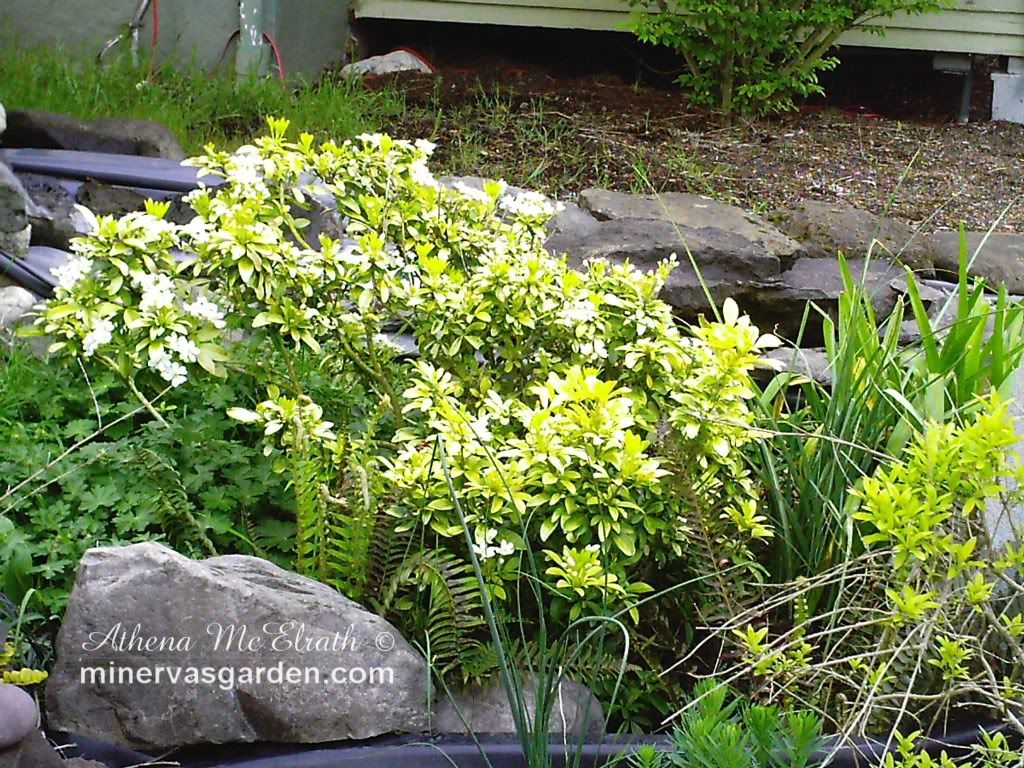 This is a great evergreen shrub if you are looking for a long-lasting punch of yellow foliage in the garden. In my garden, it is covered with lightly fragrant white flowers in the spring. It is nice paired with a dark-leaved perennial, such as any of the wide variety of heuchera, or Coral Bells, which tend to be semi-evergreen here. In the summertime, the heuchera will also add tiny bell-shaped flowers that attract hummingbirds.
B. Deciduous
a. Blueberries–[Vaccinium 'Sunshine Blue' and 'Herbert', zone 5 (with protection) to 10, cool moist acid soil with good drainage, 'Sunshine Blue' is self-pollinating, with a dwarf habit to 3 feet tall and smaller but copious amounts of berries. 'Herbert' has large berries, and reaches 4-5 feet tall.]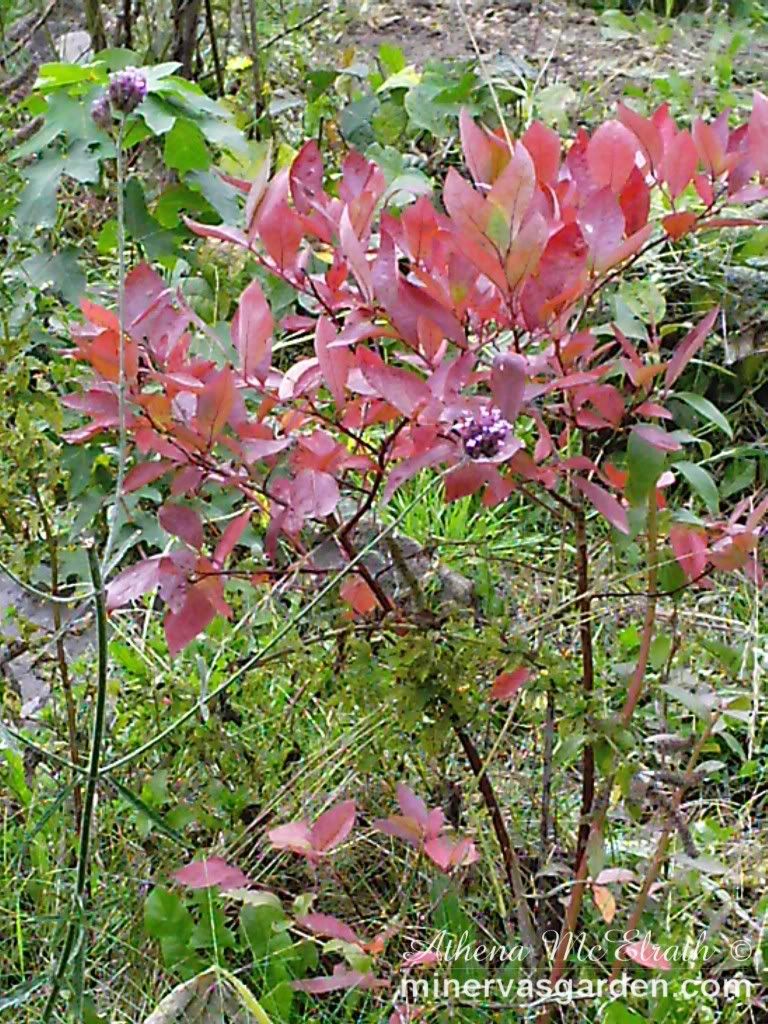 Both of these varieties, particularly 'Sunshine Blue,' are good choices for smaller garden beds or larger containers. I love to include the more diminutive blueberry plants in my mixed borders. Blueberries offer three seasons of interest. You get shrubs that leaf out in early spring and produce lots of white and pink bell-shaped flowers. In summer, the shrub transitions into its dark blue fruit, followed by a show of glorious red foliage and stems in the fall.
This picture above shows the October foliage of 'Herbert' blueberry. They don't like to be smothered by other plants, so do give them a bit of elbow room in the mixed border, but they are a colorful addition that also provides you with food! Put used coffee grounds around your blueberry plants in the spring, to give them the food that they need to produce fruit.
b. Barberry 'Helmond's Pillar' (Berberis thunbergii 'Helmond's Pillar', zone 4-8, needs regular watering, full sun. Size: 3-4 feet tall, 12-18 inches wide)
'Helmond's Pillar' in June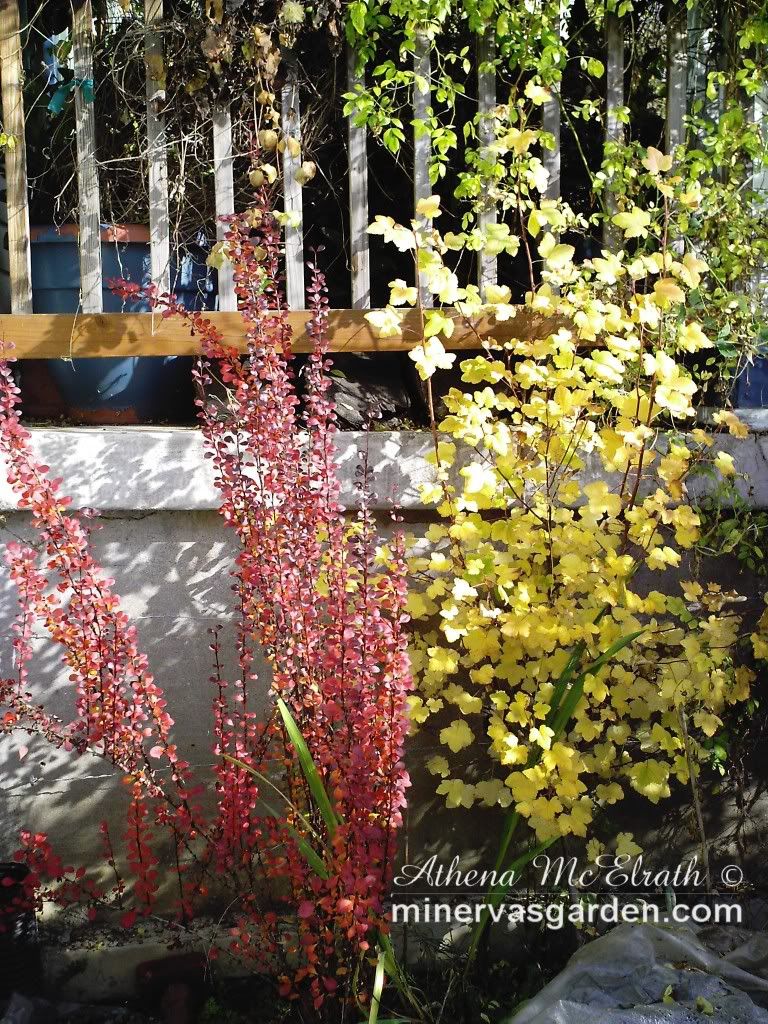 Helmond's Pillar in December, paired with Ribes sanguineum
This is such a neat plant. It is really useful because it is a tall and very narrow shrub, making it perfect for those hard-to-fill areas by doorways, gates, and in tight spaces in mixed flower beds. Like all barberries, it does have thorns. Throughout the season, it develops little white round flower buds that open to a bright yellow color.
I pair this with a Pacific Northwest native shrub, Ribes sanguineum, or Red-Flowering Currant, whose leaves turn yellow and orange in the fall. They are gorgeous together in the autumn garden.
c. Spirea 'Goldflame' (Spirea bumalda 'Goldflame', zone 4-9, needs regular water, full sun. Size: 3-4 feet tall, spreads wider)
Spirea in my garden are some of the easiest shrubs to grow and maintain. As long as you know what their mature size will be and position them to begin with properly in your flower beds, all you really need to do is remove the dead flowers from the stems in the early spring, water when necessary, and just let them do their thing. In this instance, 'Goldflame' provides amazing yellow foliage from spring and into summer, and is gorgeous paired next to a blue 'Curly Tops' dwarf evergreen conifer, or the green-grey leaves of Buddleja "Lochinch', which in the summer has gorgeous lavender flowers, and you can add some late-season blue parrot tulips to make both colors jump.
III. Perennials
A. Anthriscus, Cow Parsley : (Anthriscus silvestris 'Ravenswing', zone 6-10, average to dry soil, full sun. Size: Although listed as reaching 2-2 1/2 feet tall and 2 feet wide, it is much larger in my garden–more like 3 1/2-4 feet tall and easily 3 feet wide.)
This is one of the showiest and most unusual-looking perennials that I grow. It looks like a Queen Anne's Lace, only the foliage and stems are a deep chocolate color. The white flowers appear about the same time as the roses start to bloom in my garden, and they look nice together.
The foliage puts in an appearance as well in early spring, and makes a great backdrop for blooming spring bulbs. In many years, the foliage stays around for the winter, but that will depend on how cold it gets in your garden.
 Anthriscus foliage with bulbs in mid-April
B. Spiderwort (Tradescantia 'Sweet Kate', zone 4-9, well-drained soil, full sun to part shade. Size: 12 inches tall by 15 inches wide)
This Spiderwort is a favorite perennial of mine. I have 'Sweet Kate' growing at the feet of a large clematis 'Jackmanii'. They each have their own root space, so the large clematis vine does not take all the nutrients and water from the soil away from the smaller perennial. They have been getting along together very well for several years.
This dies back almost all the way to the ground each year, but every early spring it comes back with that wonderful chartreuse foliage. The Spiderwort keeps the foliage until fall. In the late spring you get those bright purple flowers, off and on for much of the summer. It's a party in one compact plant!
C. Leadwort (Ceratostigma plumbaginoides, zone 5-9, tolerates clay soil, full sun to part shade. Size: 12-15 inches tall and wide)
Plumbago foliage (on the sidewalk) in June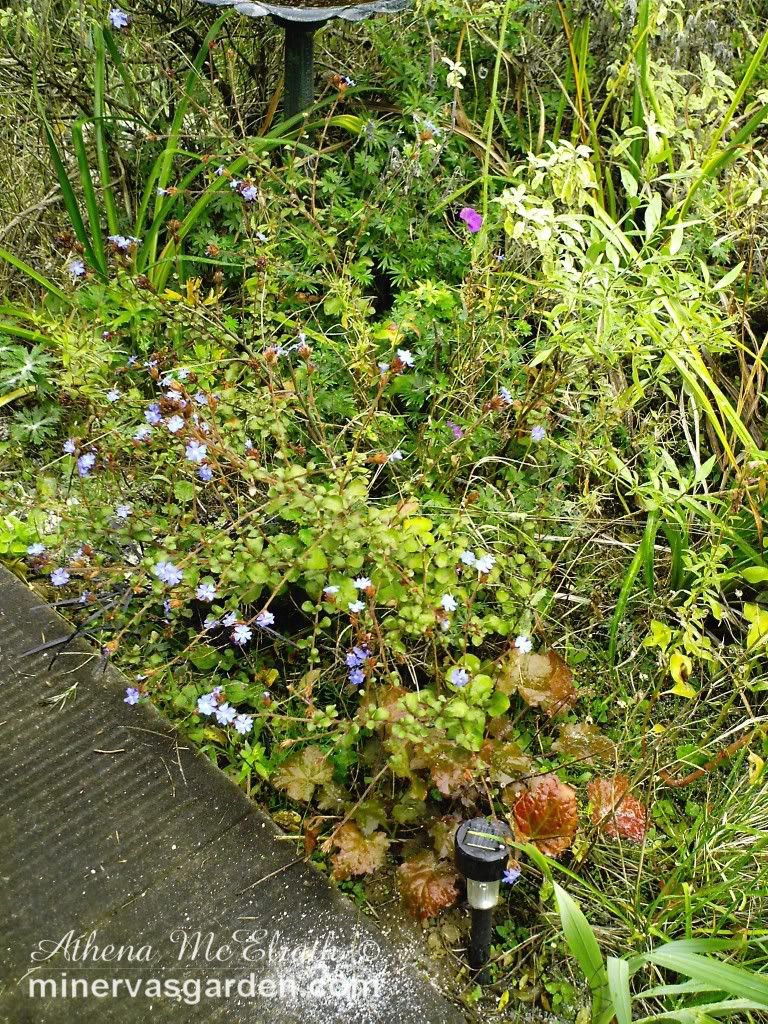 Leadwort in October in my garden
This perennial was one that took me a long time to get in exactly the right spot in my garden. I moved this poor thing probably four times before it found its current home at the edge of the walkway that leads to our back door. It's been pretty happy here.
The Leadwort is a smaller plant, great for the front of the border. It tends to die back almost all the way in the winter, but in early spring, the leaves begin to appear. In late spring and throughout the summer, the small leaves offer lovely burgundy that turns to green foliage that looks nice next to strappy leaves of daylily. The Leadwort also shares garden space with a couple of hardy geraniums that bloom off and on throughout the summer. In addition to this wonderful foliage, you get flowers very late in the season, September into November for me, in the most brilliant shade of blue–gorgeous!
D. Corsican Hellebore (Helleborus argutifolius, zone 6-9, average moisture, cool sun to light shade. Size: reputedly 2-4 feet tall, although it is closer to 2 feet in my garden)
This evergreen hellebore, unlike some of the other hellebores, can take some sun, making it a more flexible plant to use in the garden. It produces green/yellow cupped flowers from late winter until early summer in my garden, and is very pretty paired with pink-colored bulbs, and contrasts nicely with dark-foliaged plants.
 IV. Ornamental Grass
 A. Black Mondo Grass (Ophiopogon planiscapus 'Nigrescens', zone 6-11, moist but well-drained soil, full sun to part shade. Size: small–6-8 inches tall and clumping)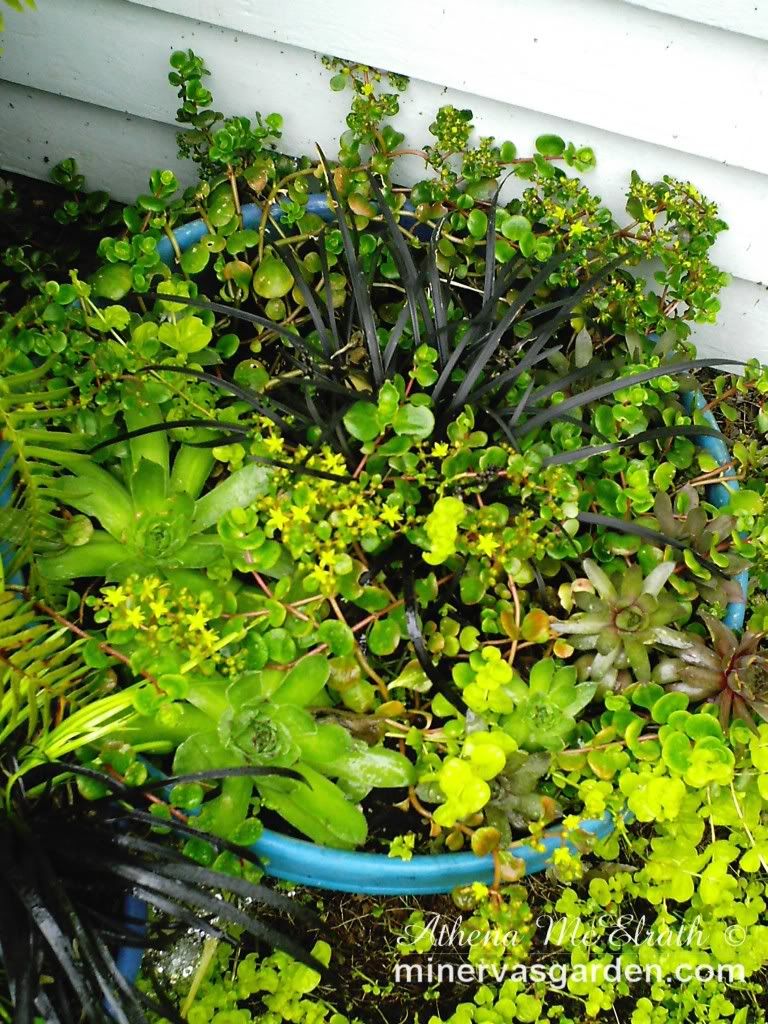 This was growing in our garden when we purchased our home several years ago, and I really like this plant. Technically, it is a grass-like perennial in the lily family, and sometimes goes by the name of lilyturf. Black Mondo Grass offers truly black foliage, keeps its color all year and it is easy to grow. If you use it in a border, put it right at the front or it will get lost in the mix of all the other plants.
I love Black Mondo Grass in containers, especially when paired with succulents like Hens and Chicks, or in a hanging basket, especially with white or light-colored partners. My mother, who grew up in Mobile, Alabama, tells me that the old beautiful homes in Mobile often had this perennial, which also sometimes goes by the name monkey grass, paired with beautiful, colorful caladium leaves, (Mom says you should try 'Freida Hemple', a gorgeous pink mottled leaf with a green edge, along with 'White Christmas', white with green edge, and 'Florida cardinal' caladium, which has a really deep red center and green edge for a glorious caladium combination), and tall red salvia behind all of this lining the driveways to the large houses, and that it was just stunning. In mild climates it's evergreen, and it tends to spread by runners, but has not been invasive at all in my garden.
 V. Herbs
 A. Sage (Salvia officinalis 'Aurea' and 'Purpurascens', zone 6-9, dry to average soil, full sun. Size: 1 to 1 1/2 feet tall and 2 feet wide)
Salvia officinalis 'Aurea', also known as Variegated sage, serving as a backdrop here to daylily 'Fall Farewell.'
Good old sage–what's not to like about this plant? It is super easy to grow, in mild climates looks good all year round, offers a variety of boldly colored leaves, and you can eat it! If sage is happy with the growing conditions, it can get very large in spread, so you will want to prune it back so it doesn't get lanky.
I actually lost one of my sage plants this last winter. We had a ton of rain, even for the Pacific Northwest, and it must have gotten root rot and just died. Those in the garden in raised beds and with better drainage came through unscathed. We grew the plain green-leaved Salvia officinalis in Eastern Washington, zone 4, and it did just fine. Although the sage pretty much died back each (harsh) winter, but it was very dry there–must have made a difference.
You can follow Athena Minerva's Garden or connect with her on Facebook, Twitter, or her RSS feed.
Shared at: Clever Chicks Blog Hop