Here's the Ultimate Stocking Stuffer Guide to fill everyone's Christmas stocking this year.
Need help finding small trinkets and unique items for stocking stuffers this year? We've got you covered! Here's the only list you need this Christmas. The Ultimate Stocking Stuffer Guide includes fun ideas for everyone on your Christmas list, with even a few extras you may want for yourself.
While there are no written historical records of how and when it began, many believe the Christmas stocking tradition originated in Europe where children would hang their ordinary socks for Saint Nicholas to fill with oranges, coins, or candy. Many often share variations of a legend where Saint Nicholas left bags of gold in stockings to provide a poor man dowries for his three unmarried daughters.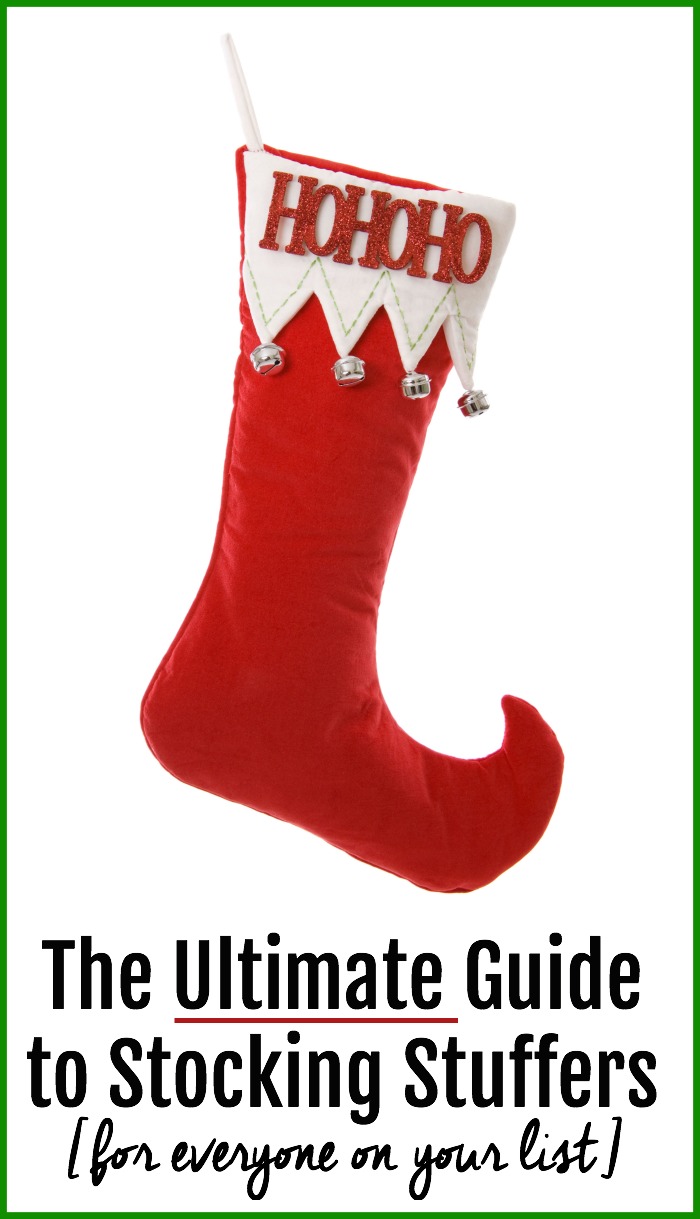 As with most of our traditions, this one has since grown into something much more complicated until we find ourselves hanging huge overpriced stockings that are, far too often, overstuffed, too.
However, stocking stuffers shouldn't be complicated. The key to choosing the perfect stocking stuffers is finding small, inexpensive items that are useful and with a touch of the cute factor, too. Scroll down this list of stocking stuffer ideas to find the items for your family and friends.
The Ultimate Stocking Stuffer Guide
45 Stocking Stuffers for a Boy
101 Stocking Stuffers for Tween Girls
65 Stocking Stuffers for a Teen Guy
Still struggling for ideas?
Here are just a few items you can add to anyone's stocking this year.
–lotions and lip balm
–outdoor accessories (scarves, hats, and gloves)
–socks (everyone needs a new pair of socks at Christmas)
–gum/mints
–techno gadgets (such as ear buds and chargers)
–gift cards (who doesn't love them?)
Whatever you choose, just keep it simple and inexpensive. When it comes to stocking stuffers, avoid splurging on expensive gadgets to keep down costs–and of course, to keep your sanity, too.
What about you?
What's the best trinket you received in your own Christmas stocking? Share your Christmas stocking stories with us!