Creating a support system when you want to make dietary changes is one of the keys to success. Start in your own home by including your kids in supporting your goal.
Kids naturally love to help adults with projects. The minute a mixing bowl appears on the counter, at least one of my kids shows up asking to help mix, break an egg, or measure the flour. From the earliest age, we include them in our food preparations whenever possible and make a big deal over their help when it's time to eat.
Include kids in your menu planning. Since I've gone gluten-free, my kids are more willing to try new things or make suggestions for gluten-free recipes. Sometime, I'll ask for their favorite meals. Other times, they'll pull out a few cookbooks and start throwing suggestions at me.
Talk to the kids about why you're eating what you're eating. When I told my kids the wheat made me tired and not feel well, they understood that because they had seen me go to sleep early or tell them I was too tired to do something. Or, they witnessed my cranky, tired moods. Now, they see a mom with more energy and spunk who set a goal of running 13 races in 2013.
Teach your kids how to cook. Depending on their age, start with kids helping out with food prep and move them towards cooking independently with adult supervision. Review safety rules with them on a regular basis. Encourage them to prepare their own simple breakfasts and lunches.
Take your kids food shopping with you. While this may sound stressful, with careful planning ahead of time on your part, a weekly shopping trip can become a regular family ritual. My friend Lauryn's husband wrote a fabulous post about his shopping trips with their 3 children on her blog, The Vintage Mom.
Your most powerful support system for a food habit change is at home with your kids. Ask them to help you out. They'll be your biggest cheerleaders and coaches.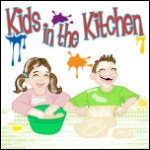 Because I love meeting new people and sharing, this post is linked to:
Real Food Wednesday, This Chick Cooks, Healthy 2day Wednesdays, Allergy Free Wednesdays, Fresh Foods Blog Hop, Gluten-Free Wednesdays, Pennywise Platter, Frugal Food Thursday, Foodie Friday, Full Plate Thursday, Your Green Resource, Frugal Friday, Food on Friday, Snacktime Saturday, Frugal Days, Sustainable Ways, The Mommy Club, Works for Me Wednesday, Make Eat Grow, DIY Thrifty Thursday, Thrifty Thursday, Thrifty Thursday Rewind, Your Green Resource, Healthy Tuesday