With the school year in full swing, my simple dinners will be focused on one pot meals. I've learned that getting dinner in a slow cooker in the morning means less stress at the end of the day. Fewer dishes to clean is always fantastic. Plus, many one pot meals use inexpensive meats thanks to the long, slow cooking time during the day. Frugal simple dinners? I'm in!
Simple Dinners: One Pot Meals
Photo Credit | The Woks of Life
Easy Chicken Chorizo Paella | The Woks of Life
Perfect for a weeknight, this Paella recipe from The Woks of Life requires only 10 ingredients. Even better, it's frugal thanks to the use of chicken drumsticks or thighs. If you're really pressed for time at night, throw everything in a slow cooker in the morning, and come home to dinner already made.
Photo Credit | The Mom Maven
Easy Recipes-Crockpot Apple Barbecue Pork Loin | The Mom Maven
Pork Loin is a family favorite thanks to its taste, ease of preparation, and price. We often find it at Costco for $1.29 to $1.49 per pound. If you want to skip the canned apple pie filling in the recipe, homemade apple pie filling is easy to make. You can also make it up ahead of time and freeze it.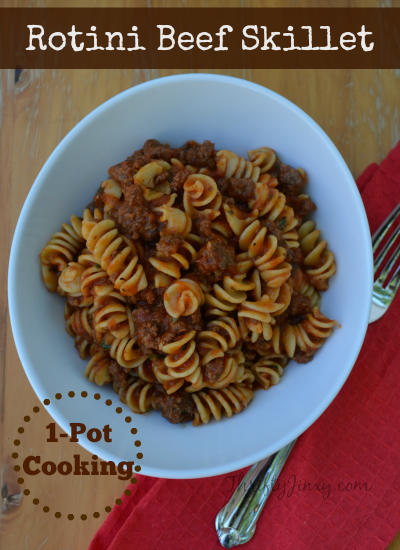 Photo Credit | Thrifty Jinx
Rotini Beef Skillet Recipe | Thrifty Jinx
Ground Beef is one of my favorite quick meat ingredients for a meal. What other meat only needs 5 to 10 minutes to brown before adding a sauce?
Photo Credit | It is a Keeper
One Pot BLT Pasta | It is a Keeper!
One pot, one cutting board, one knife, one measuring cup – what's not to like about a recipe that easy made in only 30 minutes? Not to mention BACON! My kids love anything with bacon in it!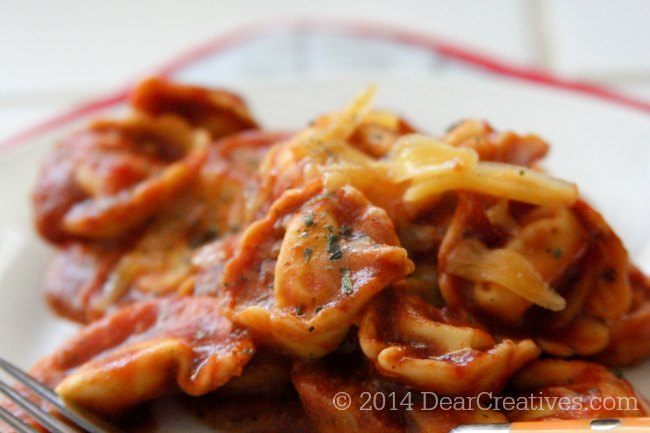 Photo Credit | Dear Creatives
Quick and Easy! One Pot Cheesy Tortellini Skillet Dinner #Recipe | Dear Creatives
6 ingredients and done in less than 30 minutes! Switch out the Sloppy Joe sauce for your favorite tomato sauce for variety. My favorite roasted tomato sauce with its garlic flavor would be perfect.
Photo Credit | Frugal Family Home
One Pot Coconut Lime Chicken | Frugal Family Home
Go dairy free with Coconut Lime Chicken. Keep it frugal by using a whole chicken. Stretch the recipe into a new meal like quesadillas or a Thai chicken soup.
Recipes from A Life in Balance
Garlic Parmesan/Romano Chicken with Noodles
One Pot Meal Tools
| | | |
| --- | --- | --- |
| Slow Cooker | 12 inch cast iron Lodge skillet | 12 inch covered All Clad skillet |
| All Clad 8 quart stock pot | All Clad 16 quart stock pot | Cuisinart Bread Machine |
Follow Barb Hoyer: A Life in Balance's board Simple Dinners: Slow Cooker Recipes on Pinterest.