Looking for some one-day trips in the Philadelphia area and nearby New Jersey and Delaware? You've come to the right place! I've rounded up a ton of trip ideas from my Philly Social Media moms, complete with their best advice for each travel spot.
Come back on Friday for 5 more day trip ideas and tips. I shared the first 5 Philly-area day trips on Monday.
Five Reasons You Should Visit Sesame Place – Mommy Entourage

My family loves Sesame Place and I have been taking my kids since they were little. From the water rides to the roller coaster, my little ones eat up every single inch of the park… Consider this my Top Five List David Letterman-style. There will be more I'm sure as the summer rolls on.
1.  There is always something new at Sesame and your kids will never get tired of going there.  Every year there new shows, new additions to the menus, improvements, and additions.  It never gets old.~ Jeanine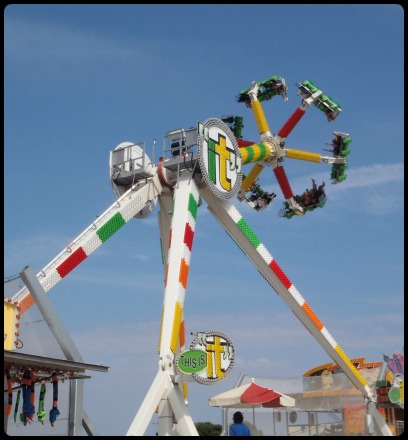 Shae recently celebrated her 5th birthday. We spent the weekend doing things as a family, enjoying not only each other but soaking in the last days of summer vacation. I'm big on having parties and get togethers for the kids but this year we went a totally different direction.
Wildwood, NJ is home to some of the biggest and best beach fun on the east coast.  The boardwalk is HUGE and home to games, rides, food and more.  I grew up going to Wildwood and vividly remember rides like the Serpent and Olympic Fun Center for their arcades.  This year is the first time we've taken the kids to Wildwood.  We headed to Morey's Piers. ~Melinda

The Strasburg Railroad travels through the Amish countryside, while the conductor tells the passengers a bit about the train, it's history, and railroading in Pennsylvania.
My boys never get tired of stopping to hear the "Ghost Train", or hearing about how Abraham Lincoln traveled through Paradise PA on his way to (and from) that fateful event at Ford's Theater.
~ Hillary
Thanks to Jersey Family Fun. . .we spent a day of our winter break exploring Trenton, NJ.  I may be a Jersey Girl, but I have not spent much time in the Trenton area.  but knowing it has historical significance and it is the state capital. . . we knew Ryan would love it and hoped Owen would too.
If you go – both the NJ State Museum and the NJ State House are open to and free for the public. (there is even free parking) the planaterium has a fee to see their program. ~ Hillary
Summer vacation is quickly winding down – Monday I had both boys home, and it promised to be a gorgeous day – so we headed to the Philadelphia Zoo.
The zoo is my personal favorite family spot in our area – i could go once a week and not get bored. I think we've been members for 10 years now – since Ryan was born. ~ Hillary
Family-Friendly Day Trips in Pennsylvania and Delaware
Fun with the Family in Pennsylvania, 4th: Hundreds of Ideas for Day Trips with the Kids (Fun with the Family Series)
  (Affiliate link)
Philadelphia With Children: A Guide to the Delaware Valley Including Lancaster and Hershey
(Affiliate link)
Check back on Friday for more day trip ideas in the Delaware Valley.