January 27th is National Chocolate Cake Day, definitely a holiday I want to celebrate. The history of chocolate cake dates back to 1764 when a Dr. James Baker discovered he could make chocolate powder by grinding cocoa beans between 2 millstones.
Chocolate powder remained a luxury until Conrad Van Houten figured out how to mechanically extract fat from cacao liquor. This created cocao butter and a mass of solids that could be ground in powder. Conching, the next step in the history of chocolate cake, made the smoother and silkier thus making baking a chocolate cake much easier.

National Chocolate Cake Day: 7 Chocolate Cakes
As a fan of chocolate cake, (and who isn't?), I rounded up 7 chocolate cake recipes to celebrate National Chocolate Cake Day. You'll find the traditional chocolate cake, and flourless cakes for the grain-free/gluten-free chocolate cake lovers. Pin, bookmark, do something with these chocolate cake recipes to save them for Valentine's Day. Since many of these recipes freeze well, make your dessert ahead of time and surprise your loved ones with a fabulous chocolate cake.
As a baker of chocolate cakes and other cakes, my favorite reference is Rose Levy Beranbaum's The Cake Bible. My favorite buttercream icing which I've used for a First Communion Cake and other yummy cakes over the years comes from The Cake Bible. If you need help understanding baking terms, The Cake Bible is a fantastic reference, not to mention a great source for cake recipes.
Traditional Chocolate Cake
Chocolate Covered Cherry Cupcakes from A Grande Life
Crock-Pot Chocolate Lava Cake from Crockpot Ladies
Grain-Free/Gluten-Free/Flour-Less Chocolate Cake
Paleo-fied Chocolate Cake from Life Made Full
Chocolate Bundt Cake with Caramel Glaze (Gluten/Grain-Free) from Life Made Full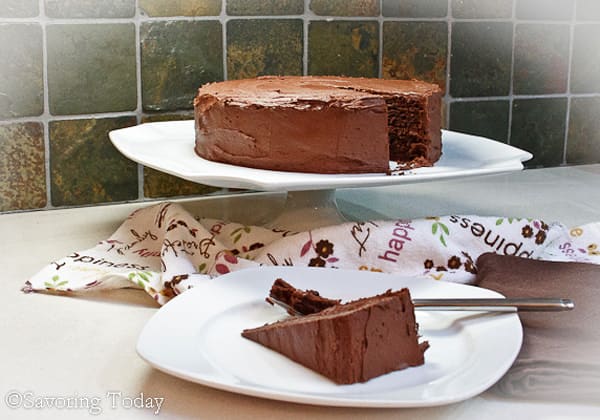 Photo Credit Savoring Today
Chocolate Cake Gluten Free from Savoring Today
Photo Credit Life Made Full
Amazingly Moist Chocolate Macadamia Cake from Life Made Full
Photo Credit Life Made Full
Dark Chocolate Mint Truffle Cake (flourless!) from Life Made Full
More Chocolate Recipes for Chocolate Lovers
Chocolate Recipes to Show Your Love
Easy Chocolate Covered Pretzels
Easy Gluten Free Chocolate Dipped Cookies
Chocolate Coconut Candy Christmas Trees
Gluten Free White Chocolate Brownie Bites