Organization is key to my gift giving for Christmas. I have 5 kids to buy for, plus a husband, extended family, godparents, and 4 teachers. Oh, and little gifts for at least 3 classes. Yes, I do gifts for my children's classmates. I need to take care of lots of people during a busy time of year.
Start Early
I start buying gifts after Christmas to take advantage of the clearance sales. This is the best time to grab bits and bobs for the classmate gifts I do. One year, I bought tons of small containers of playdough and packaged them the following year for 2 classes. I think 24 containers of playdough were reduced to $2 after Christmas.
You can also pick up wrapping paper, cards, and other gift giving supplies after Christmas. Last year, I picked up party invitations with penguins on them to use for my daughter's birthday party this December. I restocked my gift tag supply, something that I like to pay very little for. I keep my wrapping supplies organized in a storage container under our bed.
Shop Through the Year
I always keep an eye for gifts. Every time I check the clearance racks at Target or Kohl's, or anywhere else, I look for toys and picture frames. I also look around in the housewares section at Goodwill; local retail stores occasionally donate excessive inventory to my local Goodwill. This fall, I picked up a few gifts at a fall festival in my local town.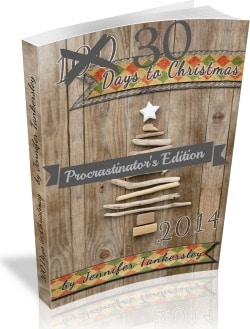 Make Wish Lists on Paper
As part of the #100daystoChristmas challenge, I printed out wish lists for my kids from ListPlanIt.com and asked them to fill them out. With my youngest 2 kids, we sat down together to fill out the wish lists. I'll keep these lists after Christmas in case any of the grandparents need gift ideas for birthdays.
Amazon Wish Lists
I have wish lists on my Amazon account for the kids. Because you can find just about anything on Amazon, it's easy to add whatever the kids want to their Amazon wish lists. I also use the wish lists to keep track of housewares we've talked about buying just in case we decide to buy one as a gift for my husband and myself for Christmas. You can share public wish lists with other people.
New to me is Amazon's Friends and Family Gifting
. You can keep track of birthday and gift ideas, and receive shopping reminders for every occasion. You can also find and remember other people's gift lists which is helpful if you're trying to figure out what to get your husband at the last minute, or you forgot your son's birthday. Not that that ever happened to me.
To start with Amazon's Friends and Family Gifting
, you can add people through Facebook or add them manually yourself. You'll be able to enter birthdays, shopping reminders, their gender, relationship to you, and their interests. Using Facebook's interface reduces the amount of personal data you need to enter. You can also enter a shipping address in case you need to ship something quickly to their address. If you share the Gift List with someone else, they can use the shipping address which will remain confidential.
What tools do you use for organizing your Christmas Gift Giving?