I am a big believer in routine, even scheduling to some extent. Routines carried me through being a working mom with one child in daycare to a stay-at-home mom homeschooling her only child to a homeschooling mom adding another child into the mix every 15 to 18 months. Routines have been the back bone of my existence.
before and after pictures. I'm so happy to have the paperwork station in place! This week's mission is about establishing routines, a big life saver for me.

I struggle with routine, however, because it does involve some discipline. If it's a habit I'm forming for myself, then I need to set up reminders. When I first started drinking more water, I kept a running total in my calendar to ensure I would stay on track. When starting a new routine with the kids, I have to spend extra time training them and reminding them until they know the routine. Sometimes I just don't want to.

Right now, I'm struggling with the routine between dropping the kids off at school and picking them back up again. I'm supposed to be writing and doing bloggy stuff. I'm also supposed to be taking care of my 4 year old, and cleaning the house, and doing the laundry and cooking. Oh, the finances, too, and any errands that come up.
After procrastinating on this topic all week, I finally had an ah-hah moment this morning. Actually two moments. First, I need to schedule my blogging time. I know it may change due to last minute circumstances. That's okay. I need to set a minimum amount of scheduled time each day, and also take a day off on Sunday. I also need to protect that time when it comes to outside commitments. I'm already drafting notes about lunch duty at school for November to make it clear what I can commit to, and can't do.
I also need to get my kids into the chore routine. The two lists I wrote up for the morning at the beginning of the school year are working great. For a long time, we've had assigned weeks for setting the table for dinner. My kids can do more than this. I will ask them to help me with chores as they come up, and too frequently, I receive griping about doing the chore.
Since I have a teenager and 4 under the age of 9, I'm going to handle the 2 groups differently. For my teen who has email, a cell phone, and an iPod meaning internet access, I am setting up reminders for chores in my Google calendar. I'll include the chores he already does, along with adding in weekend chores.
For the younger kids, while we work out who does which chores, I'll write them temporarily in my paper planner on the kitchen counter. Once I'm satisfied, I'll make up a chart for the fridge. To get the chores done, we'll have a 15 minute time frame in the morning, and another one after dinner.
I'm giving myself the next 2 weeks to work on both tasks. That should be enough time to work out the bugs and see how my blogging schedule works.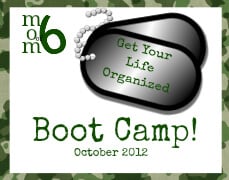 To see what everyone else has been working on this week, check out Mom of 6.
Because I love meeting new people and sharing, this post is linked to: