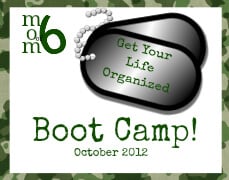 For October, I'm participating in Mom of 6′s Get Your Life Organized Boot Camp along with 9 other bloggers. I'm really excited about the challenge because I know there are areas in my home that need to be dealt with. Walking into my home, you wouldn't know this, however, I can see it, and feel a low-grade simmering frustration. Time to take action!
Yesterday, I shared before photos of the paperwork station in my kitchen. Today, I'll do the grand reveal!
Remember all that stuff that was on the counter yesterday? I put the extra camera lens in the cabinet above the counter, and put other items in the drawer underneath. I moved the small notebook over to the left, and created a space for my laptop. I don't keep my laptop here permanently, though I do need access to my recipes in Evernote. If the laptop isn't in place, this empty spot is perfect for an open cookbook.
I added 2 items in. One is the black index card box left over from my days as a Shaklee distributor. It can hold 8.5 x 5.5 index cards, making it the perfect receptacle for notecards, stamps, and extra index cards and scrap paper.
Behind the laptop is a purple portable file folder. Since I enter our activity schedules in Google and on the paper wall calendar, I don't need to have the schedules displayed. I did want to make them accessible in case we needed a coach's phone number or Google Calendar went down (knock on wood). I also put in our shoe inventory until I figure out how to get it on my iPhone.
Here's a close up of the black index card box showing the dividers separating the different items.
My happy little model/helper is showing of the last change. These shelves used to hold magazines and cookbooks. I moved them to the dining room.
Now, I have a shallow basket from the basement holding notebook paper for sick/absentee notes for the teacher, along with the small MomAgenda calendar that I bring with me to appointments and everywhere else. Behind the basket is a box of envelopes for money for school items. Behind that are scrap envelopes just in case I need them for other purposes.
Note that I don't have invitations, school calendars or any other paperwork displayed here. I use a different system than Sharon to handle those types of items. All dated material goes into the tickler files in my office after I enter the info in my 2 paper calendars and Google Calendar. My 1st grade son's weekly homework calendar from his teacher goes into his school bin in the dining room. I need to work on having an inbox for non-school items. The one I have in the office is not easily accessible. I'm sure Sharon is going to have us working on our offices, too – slave driver!
Do you have a paperwork station in your home? Where do you have it?
Because I love meeting new people and sharing, this post is linked to: