Every August, I start on my photography projects and Christmas gifts.  I like to start as early as I can since the holidays can be hectic. I spend all year collecting photos on my computer for the project. If I'm ready by the end of August, it's easy to take advantage of photo deals from sites like Shutterfly.

Family Photo Calendar
My main photo project is a family photo calendar I've been doing for about 5 or 6 years. I give it to all the grandparents, a few of the aunts, and of course, my husband gets a copy for his office. My mother-in-law has been saving each yearly calendar since I started. She loves looking at the pictures of the kids over and over again.
While I collect a lot of pictures over the year, I have a few guidelines I keep in mind when choosing the pictures for the photo calendar.
The image has to be awesome. I only use my best work.
Each of my 5 kids is represented at least once.
I include a photo of special days like First Communion, First Day of School, and Kindergarten Graduation.
No sad faces. My goal is to celebrate our family and my children's successes.
First Communion Album
For the past few years, I've also been working on a big project every year – a photo album for each child's First Communion celebration. This First Communion Album is a big tradition in my parish, and one I look forward to each time.
I use the album as a comprehensive album for each kid. I'd love to do multiple albums for all 5 kids. Maybe when the kids are out of the house? For now, I spend a lot of time and enough creating a First Communion Album that can serve also as a memory album.
More Photo Gift Ideas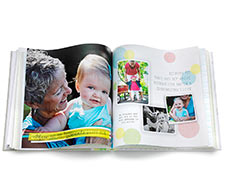 Even though I have to work on my daughter's First Communion Album this year, I am dying to make a photo album for each of the grandparents. I'd love to focus on the baby years for my kids since I was just getting started in digital photography for 4 of my kids.
I'd love to make one of these for my husband. As an engineer, he's constantly walking around job sites with his iPhone 5S and no protective case. This fun case kills 2 birds with one stone – he can carries pictures of his kids with him while protecting his phone. Booyah!
Resources for Photography Projects
Ways to Save Big with Shutterfly This Weekend Only
New Customers
NEW customers receive 45% off everything with promo code NEWSURPRISE
When: 8/28-9/3
Promo Code: NEWSURPRISE
This is a perfect opportunity to revamp the walls of your living spaces by trying out our new Design-A-Wall feature and save 45% while you're at it!
All Customers!
ALL customers receive 40% off everything with promo code LABORDAY40
When: 8/28-9/3
Promo Code: LABORDAY40
Just when you thought only the new kids on the block were getting special treatment…All customers save 40% off everything with LABORDAY40. Order a photo book with all your best photos from this summer so far, gift yourself with an iPhone case featuring a picture of your loved ones, or customize a few wooden canvas prints (they'll look perfect in your living room this autumn)— you name it, you save on it.
ALL customers receive 101 free prints with promo code LABORDAY101
When: 9/2-9/3
Promo Code: LABORDAY101
If you've been snapping lots of photos this year, you're in luck. If not, feel free to go trigger happy this holiday weekend, then use promo code LABORDAY101 to redeem for 101 4×6 free prints. Choose from 500 border treatments, include dates or names with free back printing, and ensure crystal-clear quality with our VividPics technology. This is perfect for that favorite family photo you've wanted to send all of your friends, colleagues, or relatives.
All customers use promo code CARD4U to get a free card and try out any style you want
When: Ongoing
Promo Code: CARD4U
ALL customers spend over $39+ and qualify for a free shipping upgrade by using promo code SHIP39
When: Ongoing
Promo Code: SHIP39