I have 2 children with fall birthdays, one in September and the other in October. Since we have a large extended family busy with fall activities just like us, I like to have one family birthday party for both boys. I always use a Halloween theme to simplify decorating since October is generally the best time for the party.
This year, the boys asked for a spooky Lego theme. I decided to use the Lego theme for the desserts, and stick to Halloween for the decorations. I always leave my autumn decorations up, and work the Halloween ones in with the fall ones.
I've had this Halloween fabric with scary black cats and grinning pumpkins for several years; I found it at Joann Fabrics. I bought about 3 yards, however, I could never figure out what to do with it. I love the print because it reminds me of the Halloween decorations of my childhood, but the print is large and visually stimulating. After I saw the mantel scarf at Target this week, I realized that I could lay this Halloween fabric as a table runner over a black tablecloth on our dining room table.
Halloween mantel scarf
I paid full price for this mantel scarf,though in my experience it takes awhile for Halloween stuff to go on sale at Target. I needed to have this in place around October 5th. The mantel scarf is made from heavier fabric and well-constructed. It should last for a number of years.
Halloween felt garlands
Also from Target, these felt Halloween garlands were pretty cheap. The pumpkin one was $4, and the triangle one, which spells Happy Halloween, was $3. I bought 2 of the triangle garland. One will hang on the windows in the living room, and the other on the windows in the dining room.
I still need to buy black and white ribbon which I like to use to tie the autumn and Halloween decor together visually. I'm going to use this dessert display for inspiration for my own dessert display which will go on the radiator in our dining room. I'm still collecting ideas on my Lego Party board and Halloween Party board at Pinterest.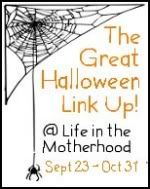 Works for Me Wednesday and The Mommy Club