Welcome to Part 2 of Athena's wonderful list of colorful foliage ideas. Personally, I am just amazed at how colorful a garden can be 3/4 of the year if one plants with an eye to the foliage, not just the flowers. I am happy to report that I have some of the plants Athena of Minerva's Garden has mentioned, and I'll be looking for more.
VI. Vegetables
 A. 'Ruby Red' or 'Rhubarb' Swiss Chard (can handle some early spring and fall chilly weather, average moisture, full sun to part shade. Size: 1-3 feet tall and wide, in clumps)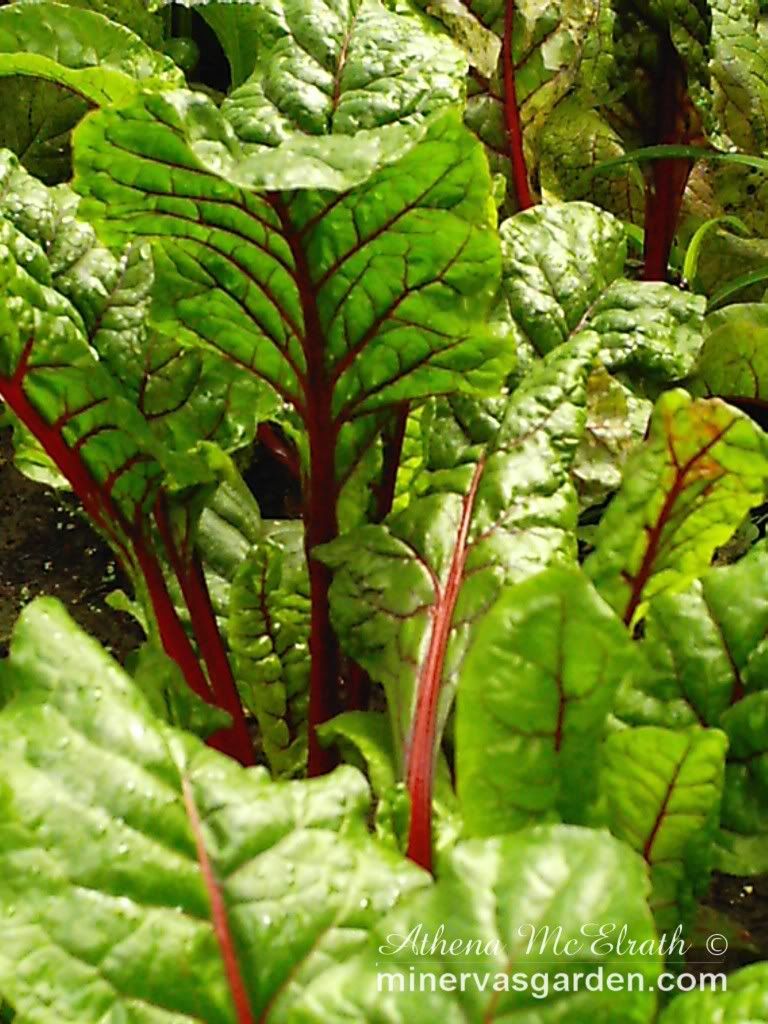 Why not colorful vegetables in a mixed border? This stunning Swiss Chard offers color for a long season in the garden. I start seeds outdoors in late March, we are eating it by early May, and it continues on until the winter cold wipes it out. If grown under plastic, and sometimes even without it depending on weather conditions, you can grow it here all winter long as well. You can pick the larger, outer leaves of a clump, and let the inner leaves continue to grow, to maintain the appearance if you grow it as an edging. This is also a very pretty plant to feature in a container, to create an almost tropical-looking focal point in a border or on a sunny patio or deck.
B. Lettuce 'New Red Fire' and Radicchio 'Rossa di Treviso Precoce': (Can grow in temperatures as low as 40 degrees, and prefers cooler temperatures for best growth, but lettuce does not tolerate frost while the radicchio can handle some. Loves very fertile soil, and ample water. Size: These are both leaf lettuce-style plants, so 8-12 inches tall and wide.)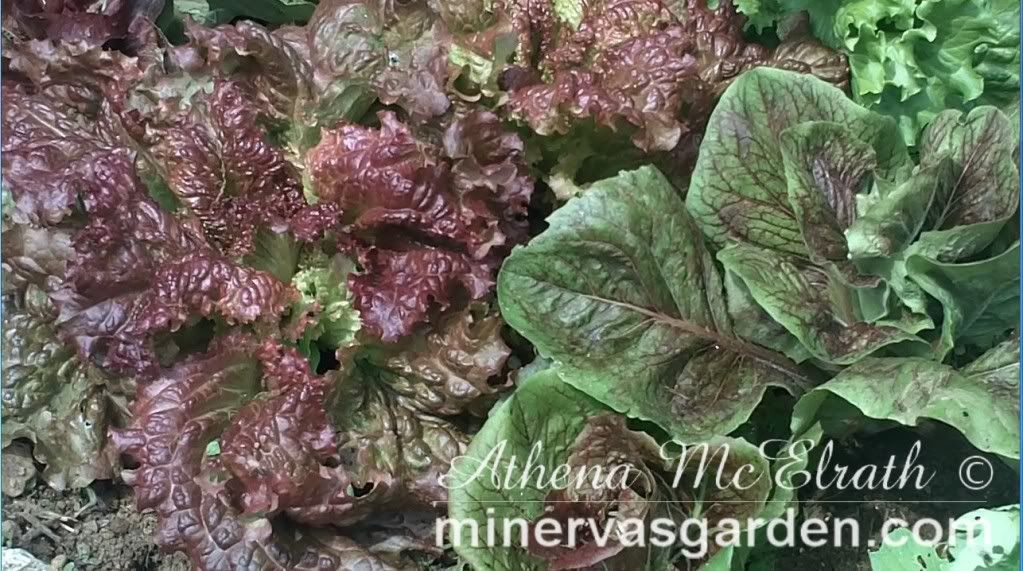 Lettuce makes a lovely border plant for the edge of a mixed border, or you can place it in containers and then strategically situate them in your beds. These 2 varieties are favorites of mine–they have been reliable producers for several years now. You can cut the lettuce head off, leaving an inch or two on the plant, and it will regrow, but over time it can get bitter. You could pick large leaves from the outside of the head for quite a while, and keep the full appearance in your edging, or you can simply harvest the whole head, and replant with a new baby lettuce plant–you'll want to plant seed indoors in pots every 3-4 weeks so that you always have new starts for planting out when you need them. I always start my lettuce and radicchio seed indoors under lights, and then transplant the starts outside when they are 4 inches tall or so–I haven't had good luck starting it from seed in the garden, but your results may vary depending on climate and growing conditions.
VII. Annuals
 A. Honeywort (Cerinthe major 'Purpurescens', moist yet well-drained soil, takes full sun to part shade. Size: 1-2 feet tall and wide)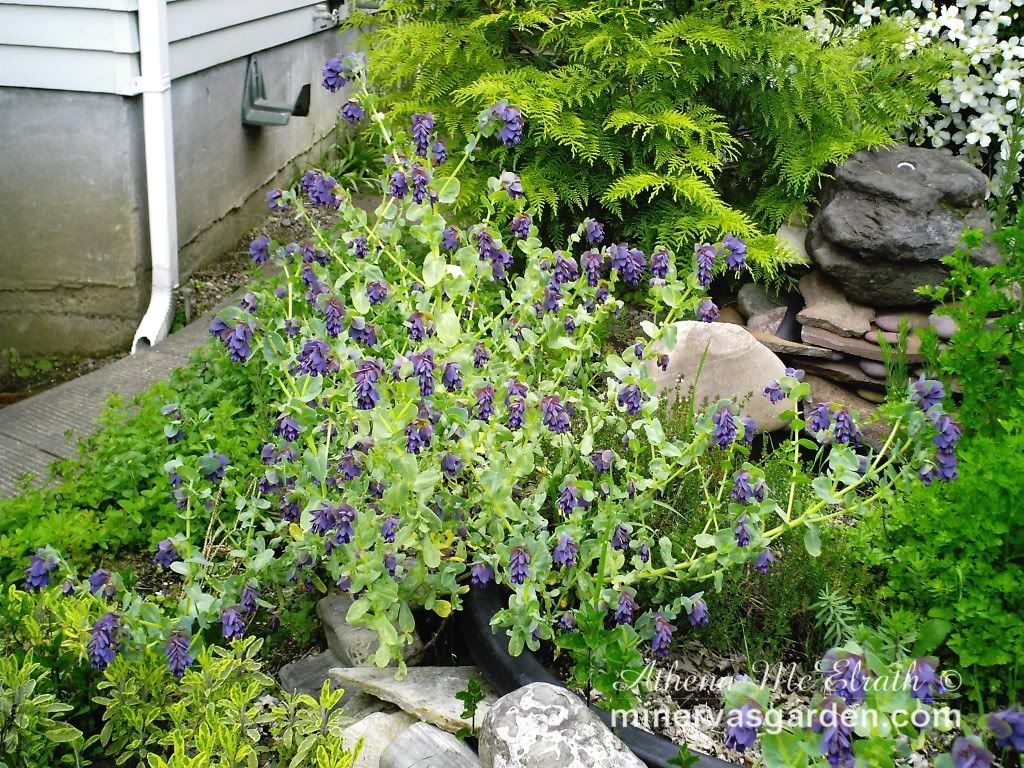 A favorite plant in my garden. I love the lightly turquoise color of the foliage on this plant, which lasts from spring until fall, and then you get contrasting purple flowers on the ends of the stems! Very pretty planted next to a yellow-colored plant, such as the variegated sage and gold evergreen foliage in this photo. Hummingbirds and bees love this, and it reseeds on its own, but not invasively, around the garden–I just dig up the babies while they are small in the spring and plant them where I want them. They don't transplant very well if the starts get too big. Beautiful in containers and hanging baskets as well.
 VIII. Tubers
 A. Variegated Sweet Iris (Iris pallida 'Variegata', zone 4-9, needs moderate water on a regular basis, full sun to part shade. Size: 2-feet tall clump)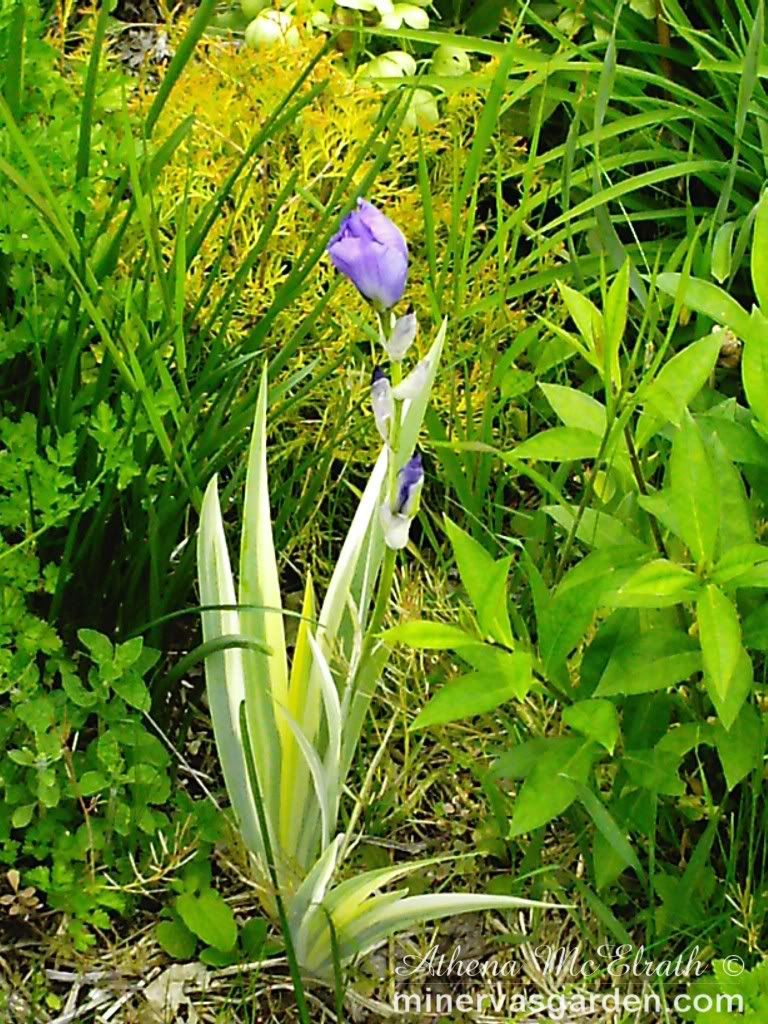 Iris have striking leaf foliage that lasts all summer, and this one offers bright, variegated foliage for a splash of color in the border. It also has these pretty violet-lavender-colored flowers in the late spring as well. It was a little fussy to get going for me–you will need to find the right spot that has enough moisture but not too much. I love it near a yellow plant when it's in bloom, but it also works well near a green plant to add some zest to a mixed plant arrangement in the border.
 IX. Vines
 A. Golden Hops (Humulus lupulus 'Aurea', zone 4-9, moist but well-drained soil, full sun. Size: big–expect this to grow 12-20 feet each season)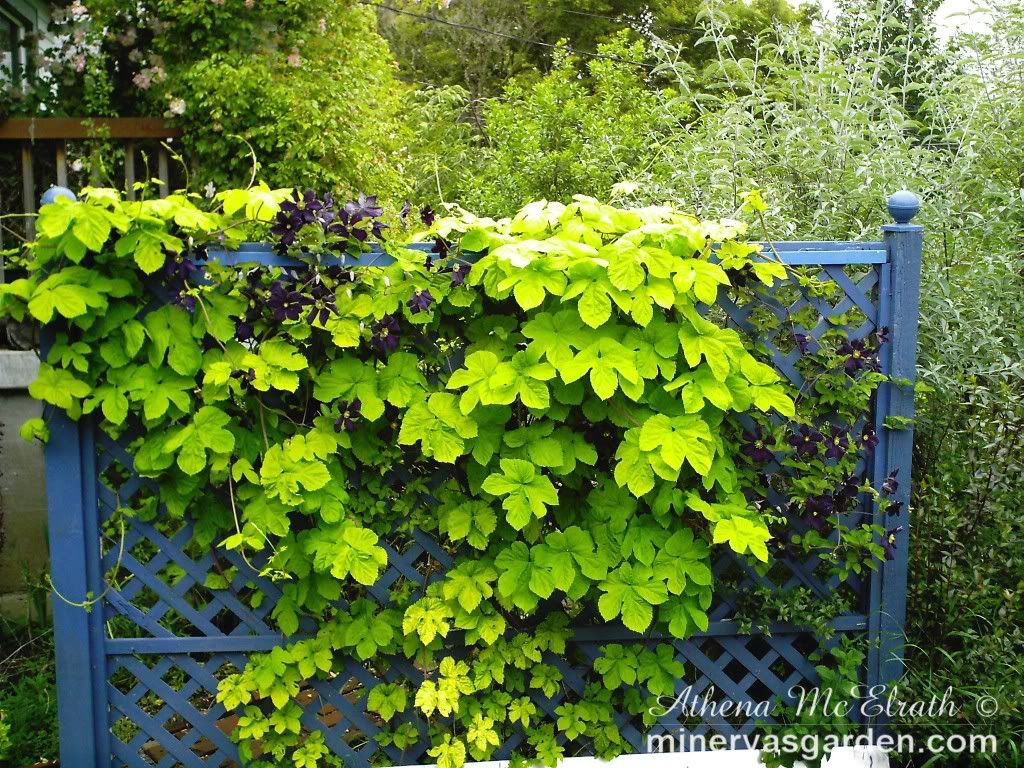 A very bright vine, if you have room for it. This is growing on an 8-foot wide trellis, with 4X4 posts on either side to hold it all in place; I wouldn't recommend anything smaller due to the size of the vine. It dies all the way back to the ground in winter, then in early spring dark vines start to appear, and later in the spring the glorious chartreuse leaves, which last until fall. On this turquoise trellis, I grow it with a 'Romantika' clematis–the yellow centers on the dark purple clematis blossoms echo the chartreuse of the vine's leaves. Hops do love full sun, so keep that in mind when you are selecting a spot for one. Perfect for growing rapidly to block a view or to create privacy for outdoor living spaces.
Hope you find these plant picks helpful when you are looking for a great colorful foliage plant for your garden!
I am so grateful that Barb gave me the opportunity to guest post on A Life In Balance. Thanks so much, Barb! And thank you again for reading. If you enjoyed this post, I would love it if you would stop by Minerva's Garden sometime and say hello. You can also connect with me on Facebook, Twitter, or my RSS feed.