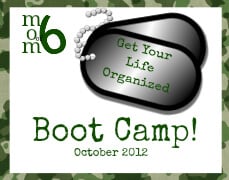 One of my frustrations as a mom of 5 kids is the need to remind my children every single day about the same routines. Every Single Day. Then, I realized that I had to take myself out of the loop, and put more responsibility on them with the help of my favorite tool, a reminder list. Even after having kids in school for 4 years, I still hadn't thought of using reminder lists for my kids.
Shortly after the beginning of the school year, I wrote up 2 reminder lists for my kids to use in the morning. The list for the rooms ensures they tidy their rooms after breakfast and before their electronic time. My reading sons have a slightly longer list than my non-reader daughter and youngest son.
Electronic time is from 7:00 to 7:30 am. I set a timer as a reminder for the end of the time. My kids need to follow another list I have on the fridge in the kitchen detailing what they need to do to be ready for school. They have to finish the list to participate in electronic time. If they're not done by 7:00, they lose their time until they're ready. They don't get more time just because they start late.
Both lists have eliminated the stress of reminding 4 kids about lots of different things in the morning. Now I'm eliminating the stress of reminding 4 kids about their different homework/after school projects by setting up a reminder list.
Drawing inspiration from the list Sharon, Mom of 6, shared with the Get Your Life Organized Boot Camp bloggers this week, I created a one page list in Excel. I will need to redesign the list next year when I have 5 children in school. My plan is to put this list on a clipboard next to the homework bins we have in the dining room.
Since my kids write their homework down in a homework journal or have a weekly homework page from their teacher, I simply used the word "homework" for the first item on the list. As I review the homework for each child, I make a small check on their journal or homework page. With 3 children in scouts this fall, 2 of them will need assistance for working on projects and badges. Having a check out for scouts reminds me and them to stay on top of whatever they're working on.
Yes, I don't have chores on the lists. During the school year, I assign chores on an as-needed basis. As long as my children take care of their rooms and laundry plus set the table during their assigned week, my 4 year old and I handle the rest of the chores. During the summer, I will include the kids in taking care of the home.
For more posts on this week's assignment, visit Mom of 6's Get Yourself Organized Boot Camp.
Previous Assignments
Because I love meeting new people and sharing, this post is linked to: